8.Multi-design Application
The Patent Law of China (Article 31) stipulates: An application for a patent for design shall be limited to one design incorporated in one product. Two or more similar designs for the same product or two or more designs which are incorporated in products belonging to the same class and are sold or used in sets may be filed as one application.
It could be seen from above stipulation that a multi-design application in China should fulfill one of the conditions, where
1.Two or more (but 10 at maximum) similar designs made for the same product; or
2.Two or more designs which are incorporated in products belonging to the same class and are sold or used in sets, such as tea sets inclusive of a tea cup and a tea pot.
In Japan, the applicant can consecutively file one or more new related designs with another design. Under the amended Design Act of Japan which came into force on April 1st, 2020, an application for a related design could be filed within 10 years from the filing date of the main design (the first-filed design) application. The essential differences between the related-design application in Japan and the similar-design application in China are listed in a table below.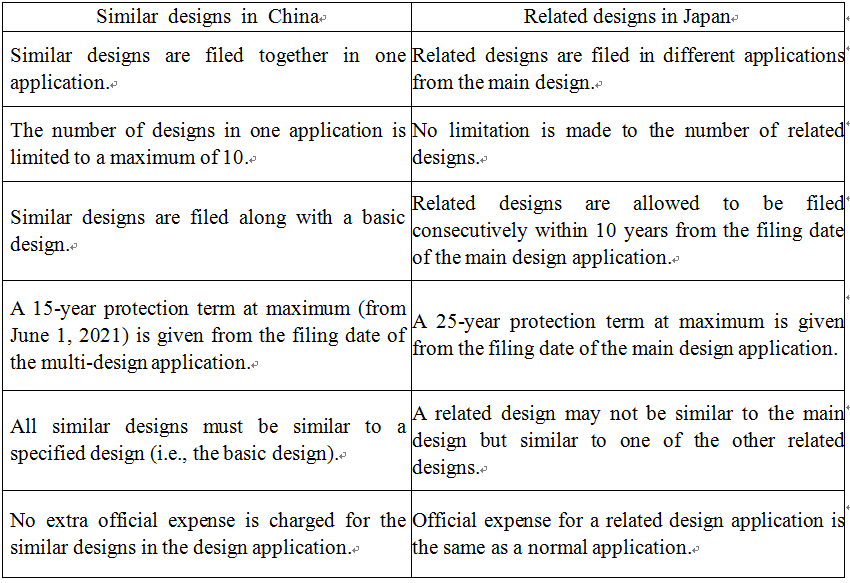 Example of the similar design in China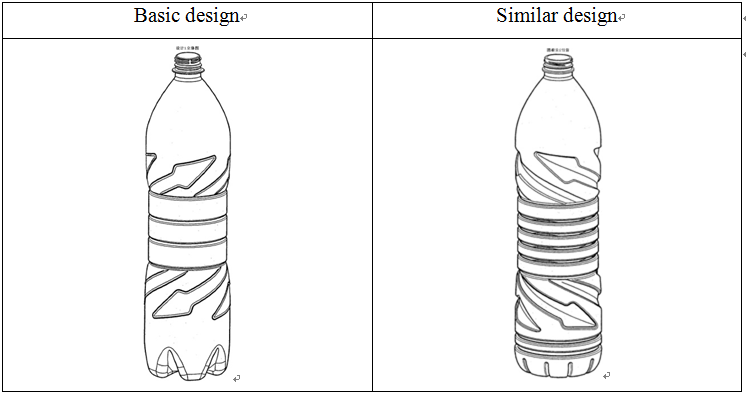 Example of the related-designs in Japan

9.Partial Design
As is well known, the amended Patent Law of China enforced on June 1st, 2021 will accept protection of partial design. No implementing regulations of the amended Patent Law are introduced as of now, however.
In Japan, as is stipulated in the Design Act of Japan (Article 2), "Design" means the shape, the pattern, or the color, or their combination, of a product or a part of a product, which visually induces an aesthetic feeling. In accordance with above stipulation, the protection of partial design can be chased under the Design Act of Japan. However, as to the filing of partial design in Japan, attention should be paid to the followings:
1. A partial design has the same allowance requirements as an entire design.
2. It is not allowed to transform an application for entire design to an application for partial design.
3. An entire design containing a partial design is still kept allowable after the partial design is filed in JPO.
4. A priority of partial design must be a partial design application. In other words, a benefit of a prior application for an entire design cannot be enjoyed for an application for partial design extracted from the entire design.
5. Non-part of a product cannot be protected under the Design Act of Japan. For example, the simple pattern or color which departs from the product as a carrier is not allowed to be filed as partial design.
Example of partial design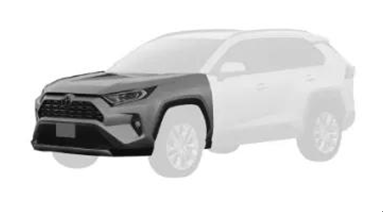 Author: Bo Sheng